Music, Friends, and Family
by Stan Peskett
These two pieces, one by Stan Peskett and the other by daughter Georgia Peskett, will be on display at the "Virtuoso" art show in San Francisco later this month (December 2010).
The show, featuring nearly 100 artists and musicians, is in honor of Prairie Prince's 60th birthday and a celebration of his creative spirit, in art and in music. Stan and Prairie have been close friends – for over 30 years, and have collaborated on many projects. 
Stan and daughter Georgia have also teamed up over the years, most recently working together on restoration of the "Vision of Angels" mural in East Dulwich, London. Georgia helped create the original mural in 1993 and returned to add her touches to the revitalization effort in 2009.  Later that year, Georgia made her first visit to California, where Stan now makes his home and many of her impressions became inspired paintings when she returned to England. One of them, featured here, will be included in the upcoming "Virtuoso" exhibit - a portrait of Stan playing his keyboard at home in the wine-growing and redwood-forested hill country of Mendocino.
Stan's contribution to the "Virtuoso" show is "Brighton Promenade", inspired by memories of his youth, day-tripping and vacationing on the coast near there. This new, muralesque piece was first created in watercolors as a smaller sketch "cartoon", and was shown in a solo show, "On A Musical Note," along with other works featuring musical encounters in diverse settings.  The larger work features Georgia as "Snoop G", undercover photographer documenting the strange rituals of British holiday makers – the kind that tend to wind up on her canvasses. (More of Georgia's work can be viewed on her own website georgiapeskett.com)
 "Brighton Promenade"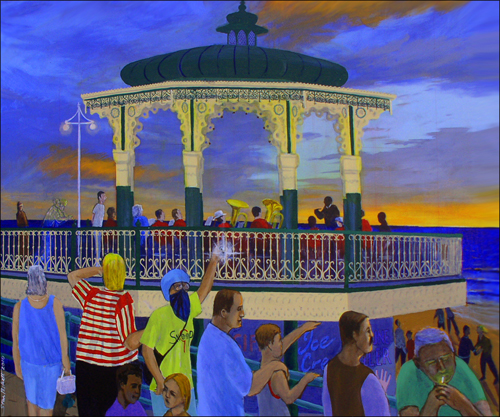 "Stan Playing"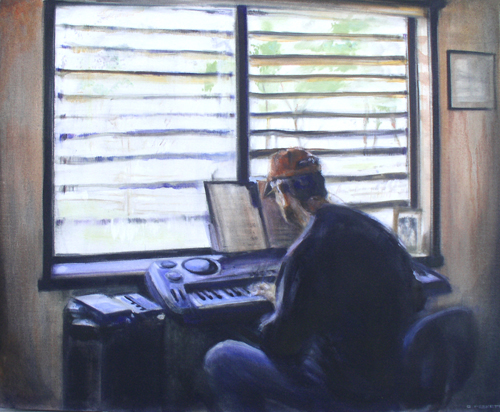 "Blue Piano" from the Laughing Dog Bookshop show "On a Musical Note" 2010. 

Six Months of AVA Drawings
by Stan Peskett
For a little more than six months in 2008, British artist Stan Peskett contributed front-page drawings to the Anderson Valley Advertiser. The complete collection of original renderings, over 30 pieces in all, will be on display at Lauren's in Boonville beginning Tuesday, September 8th and running through the end of October.
A local resident since 2002, Stan Peskett got his start in the London art scene in the 1950s. His accomplishments in the world of interior design and mural painting have won him international acclaim for installations both public and private.  A versatile artist, Peskett also has a considerable body of work in "easel" painting, including many pieces created more recently, using the northern California landscape as his inspiration.
But it isn't only the landscape that inspires Stan Peskett.  It's also the local residents and sub-cultures he encounters in the community where he makes his home. In early 2008, the artist turned some of his observations---of local people, places, and events--- into black and white compositions which were featured for more than six months on the front page of another local phenomenon, the Anderson Valley Advertiser. These pieces, along with many of the original sketches that were used in their creation, form an affectionate, sometimes witty, and always skillfully rendered snapshot of half a year in the life of Anderson Valley, as seen through the eyes of Mike Believe (Stan's cartoonist alter-ego since the SubGenius days). Although he is no longer featured in the AVA, Stan continues to chronicle the world around him in daily mixed-media compositions he posts to the journal section of this website click on vlog+RSS). 
Stan Peskett is an artist who has succeeded in mastering many skills not only as a painter, but also as an installationist, colorist, muralist, set- designer, and art director. Drawing and imagining a diverse range of subject matter and projects in a timely way has had him termed as "Visionary Eclectic".
His journals display much of the latter. Proving that "Visual Literacy" is a key factor in a growing world of non verbal communication.
He has played a blues and jazz piano for more than 50 years.
Many of the works seen on this site are available for purchace, from early 1970s journals, the latest online Vlogs, to original paintings and prints.

Stan is also available as artist, style consultant and mural painter. Please use the contact form to get in touch with him.
---
Blast from the Past - 1996 Scrapbook
"Toontown Yapper" painted in 2007 when Stan Peskett was artist at Abbey Foundation's Studio in Boonville. This work set the mood for the series.